De gustibus non est disputandum
Le merci
As we usher in a New Year, I want to share with you all the first iteration of a hopefully semi-regular rundown of some of the ebay listings of note that I stumble across. Most of the items listed will mirror the stylistic theme of DE&O as well as represent decent value for the money. Happy bidding.
-Piombo Checked Cotton Navy Blazer (38R): Besom pockets take getting used to, but if you're on board, Piombo is for you. This blazer appears to be in great condition and has all the details you'd want in an Italian staple - soft shoulders, 3-2 roll, dual vents. Piombo blazers definitely run small, and as a 38R, I fit into a 40R perfectly. 
-Isaia Heather Grey Glen Plaid Blazer (38R): Great pattern on this blazer - classic glen plaid from Napoli's finest. Full canvas, dual vents, and a wool cashmere blend equals a timeless piece for the current season, and this sucker is NWT. Judging from the pictures/text, it's recent and in one of Isaia's standard bodies - the Base S (love it or hate it).
-Boglioli Grey/Purple Glen Plaid Blazer (42): Another killer pattern here, this time from the masters of the unstructured blazer. Three patch pockets make this the perfect casual blazer for the winter. Appears to fit pretty slim, like most Dovers, and would probably work for a standard 40R.
-Brooks Brothers Black Fleece Grey Cardigan (BB1): Perfect layering piece to go under a blazer, blouson, or trench. Button cuffs are a nice TB touch.  
-Luigi Borrelli Luxury Vintage Khaki Trousers (32): Slim fitting and a great shade of British khaki, these trousers are the epitome of versatile. Throw a 1.5-2" cuff on these guys and wear with anything.
-Finamore Navy Blue Plaid Shirt (15.75): Great casual shirt to wear on the weekend. Very soft looking fabric with an equally soft collar. MOP buttons and slim fits are Finamore staples. 
-Barba Napoli Blue Stripe Dress Shirt (15.5): Perfect spread collar on this slim fitting dress shirt. Would look great with a navy knit tie.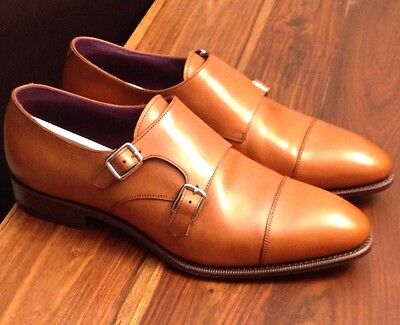 -Carmina Double Monks (10.5): Not much to say about these except that I wish they were 10s. 

-Trickers Keswick Green Suede Chukka Boots (10): I think Chukkas are one pair of shoes that you can have fun with, and these would be a pretty cool addition to a wardrobe full of browns and blacks. Wear them with navy trousers or jeans and enjoy the comfort of the crepe soles.
-GJ Cleverley Snuff Suede Chukka Boots (11): For something a bit more mundane, these Chukkas will fit the bill nicely. Barely worn and in great condition, Cleverley makes some of the nicest boots around. These are staples that can be dressed up or down quite easily.
-Brunello Cucinelli Brown Hikers (10): When you think about Cucinelli, you envision rugged luxury, and these hikers are typical of his style. They are made of brushed deerskin and have a full Vibram sole. With a retail price north of $1k, these are a relative steal and are likely very, very comfortable.
-Polo Ralph Lauren Oilcloth Biker (S): If you're looking for a classic British moto, and don't want to splurge on Belstaff, this one could be good for you. Brand new with a ton of nice features
"The time has come," the Walrus said, "To talk of many things: Of shoes, and ships, and sealing wax Of cabbages and kings And why the sea is boiling hot And whether pigs have wings" downeastandout(at)gmail(dot)com